Refrigeration Service and Expertise you can trust.
Need help? Berg has got you covered.
For over 45 years, Berg Chilling Systems Inc. has been manufacturing and servicing a complete line of refrigeration chilling systems and process pumping equipment for customers in more than 50 countries around the world. We manufacture using carefully selected materials and components under the toughest quality control standards in the industry. We make sure to thoroughly inspect and test every piece of equipment to ensure top performance.
Our team of refrigeration experts are available to professionally address your installation, start-up, overhaul, and rental needs in the following areas:
Refrigeration Service & Installation
Electrical Service & Installation
Gas Service & Installation
Mechanical Service & Installation
Boiler Service & Installation
Compressor Rebuilds and Overhauls
Flexible, Modular Rental Solutions for All Chilling Equipment
Throughout the operation of your chilling solution, it may be necessary to replace certain components that reach their end of life. Berg services all of the equipment we sell. We maintain an inventory of critical components and are committed to providing quality replacement parts for Berg's chilling solutions. Our dedicated experts will provide you with all the useful information you require and at the same time will handle your order. In addition to servicing our own factory-built solutions, we are qualified to service equipment from other process equipment suppliers.
Whatever challenge you may have on your system or whatever industrial refrigeration service you may need, Berg has got you covered.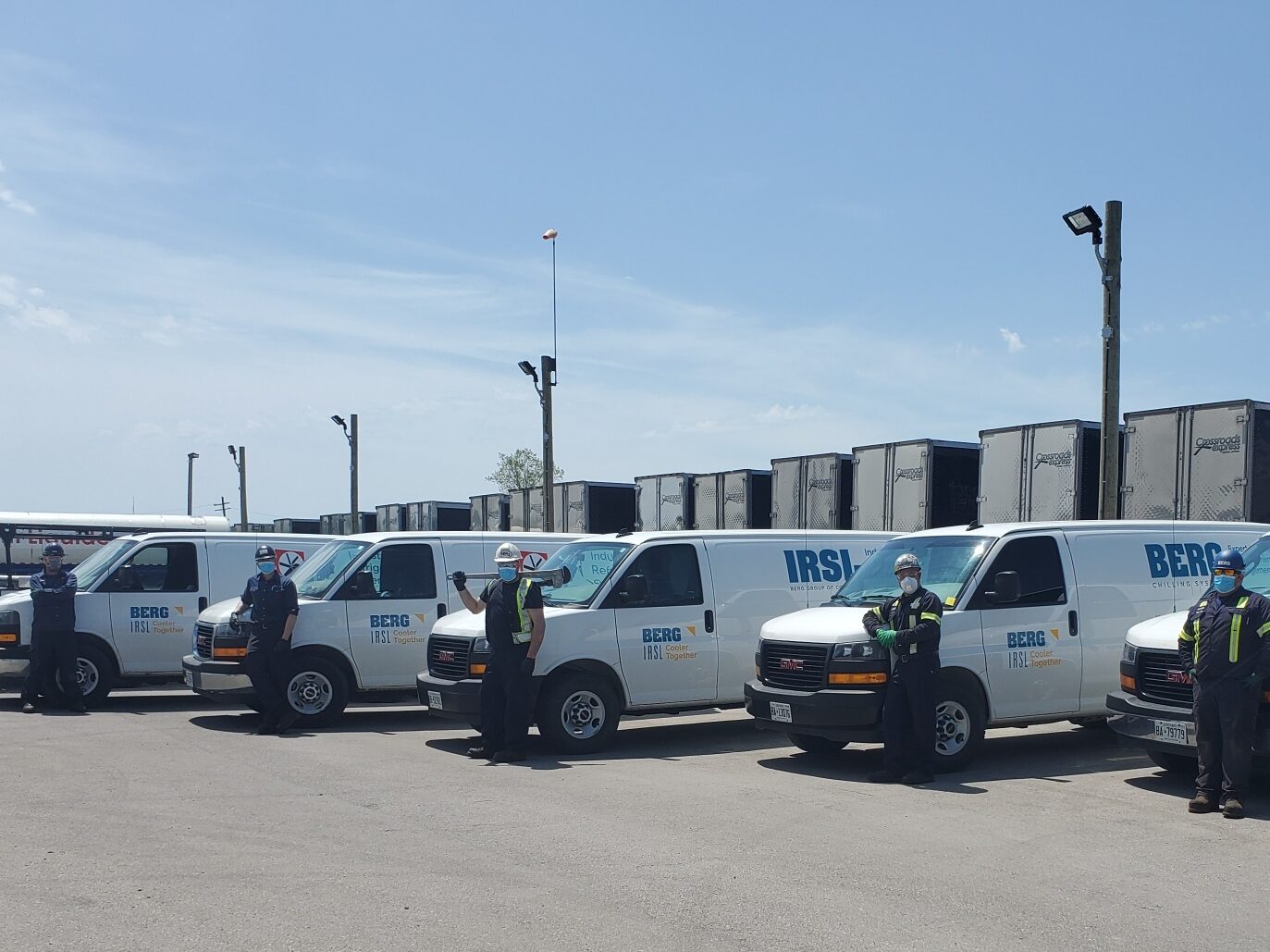 Creating Valuable Competitive Advantage
Berg Chilling Systems Inc. has built an international reputation for designing, manufacturing, installing and servicing industrial process chillers and cooling systems to exact specifications and standards. Our collaborative approach produces engineered innovations that consistently deliver improved operational competitiveness, giving you the edge that you deserve.
At Berg, excellent customer service is our number one priority. Your Berg chilling solution is backed by one of the most comprehensive warranty programs in the industry. We warrant all products sold to be free of defects in material or workmanship for a period of one (1) year from the date of start-up unless otherwise specified. With Berg as your partner, you can feel confident that your purchase is the right solution at the best quality, supported by the best customer service available.
In addition, Berg aims to provide value to our clients through various solutions such as increasing operational efficiency, minimizing maintenance, reducing energy consumption, eliminating downtime, and lowering environmental impact. Through our services and systems, we want our customers to succeed in whatever cooling challenge they may have and whatever goals they want to achieve.
Ready to Serve you Anytime and Anywhere in the World
From ice rink refrigeration services to mechanical room upgrades, Berg is ready to serve you anytime and anywhere in the world. We have dedicated Sales and Service offices in Ontario, Manitoba, Alberta, Saskatchewan and Nova Scotia who can help you with all of your cooling needs.
Berg Chilling Systems' Service Division is a Technical Safety and Standards Authority (TSSA) Certified contractor that operates 24 hours a day, 7 days a week with continual, around-the-clock access to our well-stocked inventory. We have Sales and Service divisions situated from coast to coast across Canada. Our team of highly trained service technicians is ready to serve you anywhere our fleet of vehicles can drive or a plane can fly. This ensures not only fast and constant response to customer requirements but also a well-equipped response – a Berg exclusive in the industry.
Contact Berg Chilling Systems Inc.'s Service Department today to learn more about how we can help you with your cooling needs.