Worldwide Refrigeration Expertise You Can Trust
Berg is Ready to Serve you in Mississauga
For over 45 years, Berg Chilling Systems Inc. has built an international reputation for designing, manufacturing installing, and servicing thousands of industrial thermal process control and industrial refrigeration systems to customers worldwide. Berg continuously provides reliable, custom cooling solutions in more than 50 countries in industries defined by transportation, chemical & petrochemical, manufacturing, building & construction, food & beverage, national defence, natural resources, recreational sports and more.
Back in 2016, Berg expanded its services to the Mississauga, Ontario region by acquiring Industrial Refrigerated Systems Ltd., a long-time industrial refrigeration business. Through the acquisition, Berg was able to have an additional sales and service office in Mississauga. This expansion has enabled Berg to provide more of its expert industrial refrigeration and ice rink refrigeration services to the customers a one-stop shop for refrigeration equipment and service needs regardless of refrigerant type (ammonia, HFC, etc.). In addition to providing services anywhere in Ontario and the rest of Canada, Berg is now able to cater to the areas of the USA-Canada borders and the entirety of the USA (including Alaska), Peru, Mexico, Chile, etc.
A Local Team with Global Expertise
Our Mississauga service staff and management have cumulative expertise and experience of over 45 years in the refrigeration industry. Such expertise has led Berg Chilling Systems to become a household name of industrial refrigeration in the province. This includes Berg being the new face of expert cooling and temperature control services for municipal ice rink arenas, food and beverage facilities, construction, engineering and manufacturing firms, and ice plants and ice storage facilities in the Mississauga area. Our customer commitment and integrity continue to grow from the previous ownership up to the present times.
Our Mississauga offices are open Mondays to Fridays from 8AM EST until 5PM EST while our service hours are available from 7:30AM EST to 3:30AM EST (closed during statutory holidays). In addition, our service teams are available for after-hours emergency services and maintenance 24/7, all year-round to ensure that your industrial chilling systems are always at its best.
For any inquiries, you may reach out to our Mississauga office at the following:
Mississauga office:

Address: 6355 Shawson Dr. Unit 1, Mississauga, Ontario, Canada, L5T 1S7
Hotline: (+1) 416-755-2226
Some notable projects of our Mississauga team include the full refurbishment and upgrade of ammonia refrigeration systems for various municipal ice rink areas across Ontario (City of Guelph, City of Orillia, City of Hamilton, City of Mississauga, Township of Oakville, City of Pickering, etc.), condenser and compressor upgrades for ammonia cooling systems for food and beverage plants in the Mississauga region, ongoing maintenance programs and emergency services for multiple ice rink cooling systems in Ontario, etc.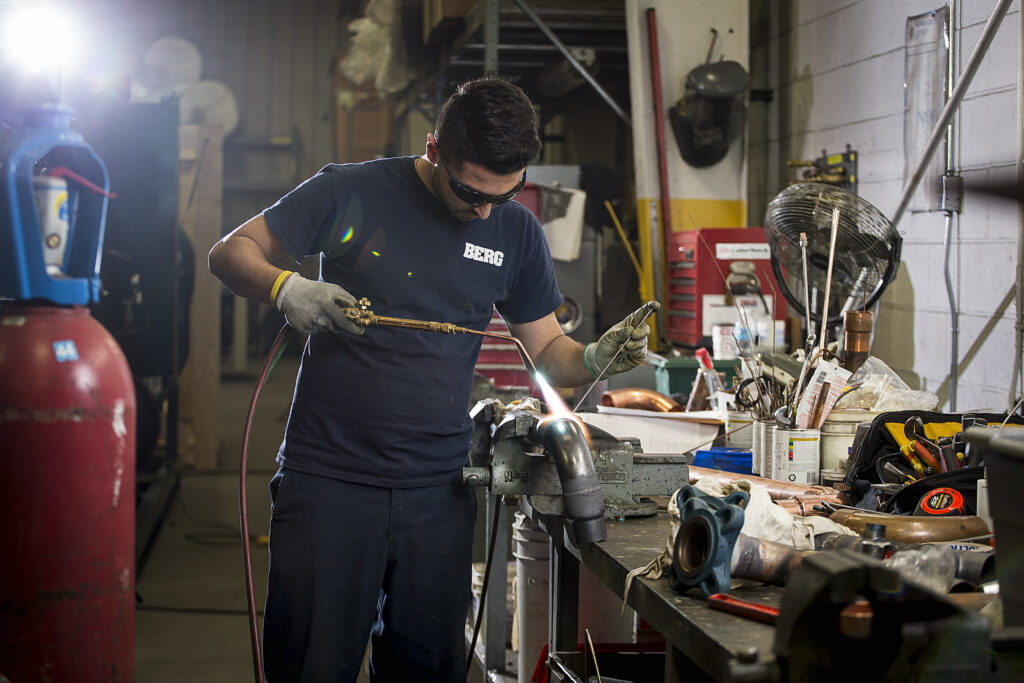 Have a Cooling Challenge? Berg has you covered.
From industrial chilling systems to ice rink chiller services, Berg's Mississauga division has you covered.
Berg's refrigeration experts are capable of providing numerous services fit for your needs such as:
Custom industrial process refrigeration equipment, mechanical packages and fluid pumping systems – Ammonia and synthetic refrigerants
24-Hour Service and Installations – Industrial, Commercial, Warehouse Cold Storage, HVAC, Controlled Environments, Ice Rinks and Dehumidification of Ice Arenas, Fisheries, Meat Processing, etc.
Maintenance Agreements in all applications – Industrial, Commercial, Warehouse Cold Storage, HVAC, Controlled Environments, etc.
Code Compliance Upgrades
Engineering Services
Screw Compressor Maintenance and Overhauls - All Makes and Models (including Rebuilds, Inspections and Replacement)
Expert Refrigeration Service Anytime and Anywhere in the World
Berg is dedicated to serve you anytime and anywhere in the world. We have dedicated Sales and Service offices in Ontario, Manitoba, Alberta, Saskatchewan and Nova Scotia who can help you with all your cooling needs.
Berg Chilling Systems' Service Division is a Technical Safety and Standards Authority (TSSA) Certified contractor that operates 24 hours a day, 7 days a week with continual, around the clock access to our well stocked inventory. We have Sales and Service divisions situated from coast to coast across Canada. Our team of highly trained service technicians are ready to serve you anywhere our fleet of vehicles can drive or a plane can fly. This ensures not only fast and constant response to customer requirements, but also a well-equipped response – a Berg exclusive in the industry.
Contact Berg Chilling Systems Inc.'s Service Department today to learn more about how we can help you with your cooling needs.