From building indoor or outdoor ice rinks to mechanical room upgrades, Berg takes pride in providing unmatched expertise in the recreational ice sector. Berg's ice rink refrigeration experts stay up-to-date with the leading technology, best practices, and the need for customer safety. Our experience with both synthetic and ammonia refrigerants has established us an international reputation for providing excellent synthetic and ammonia refrigeration service as well as high quality and cost-effective ammonia refrigeration systems for a wide range of clients worldwide.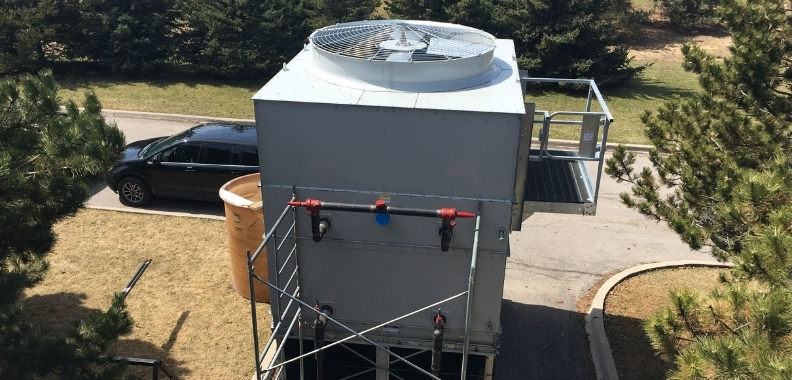 In 2019, Berg supplied one ice rink evaporator package as part of an ammonia ice rink refrigeration system upgrade for a municipal ice rink in Oshawa. The package includes a titanium plate and frame heat exchanger with surge vessel and oil pot, evaporative condenser with ammonia refrigerant, Danfoss liquid level control for modulating liquid levels and remote sump tank. Berg service and staff also conducted the repurposing of used brine pumps onsite, electrical and controls modifications, start-up and commissioning of the ammonia evaporator, and staff training.
To find out more about the project, click below:
About Berg Chilling Systems
Berg custom designs, manufactures, installs, and services cost-effective ice rink temperature control and chilling solutions for recreational ice rinks such as curling rink systems and hockey rink refrigeration systems. Unlike other ice rink chiller manufacturers, Berg's refrigeration experts know chilling down to the core. Putting the customer's challenges at the heart of every design, Berg sales engineers apply unmatched energy management experience to create built up or skid mounted systems using both ammonia and synthetic refrigerants.
Berg is active in the recreational ice sector as well as the general industrial sector across Canada, the United States, and elsewhere in the world. We have the resources and abilities to build very sophisticated industrial process equipment skids, packages, and solutions, and to meet stringent design specifications.
Wherever unique cooling needs exist, in multiple industries and in varying environments around the globe, clients trust Berg expertise. Contact us today to find out more.