Whether you are building a rink or upgrading your mechanical room, you expect reliability, durability, and cost-saving operations. Berg's ice rink refrigeration experts stay up-to-date with the leading technology, best practices, and the need for customer safety.
In 2019, Berg had the opportunity to help Glace Bay Miners Forum in Nova Scotia achieve its operational goals. The arena was due for refurbishing and upgrading their ice rink. With the client's priorities in mind, Berg's refrigeration experts came up with a custom-designed ammonia ice rink chiller system that matched the client's exact requirements.
The skid-mounted water-cooled ammonia chiller package featured three reciprocating compressors, one Vahterus plate and shell evaporator with integrated surge drum, one condenser, one high-pressure receiver, three oil separators, three coolers, and one oil cooling pump. The ammonia ice rink chiller also features an ammonia leak sensor and controller for added safety and security of the system. Lastly, Berg's ice rink refrigeration specialists made sure that rink chiller operations were smooth by training the Miners Forum rink operators and staff.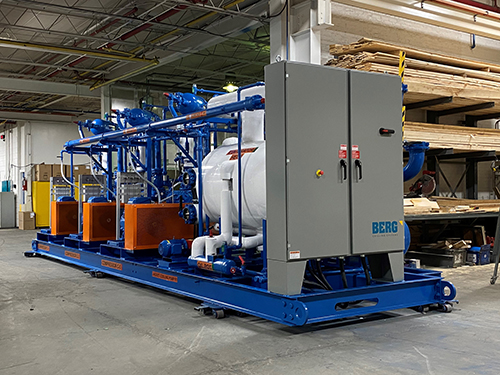 To find out more about the project, click below:
About Berg Chilling Systems
Berg custom designs, manufactures, installs, and services cost-effective chilling solutions for recreational ice rinks. Berg's refrigeration experts know chilling down to the core. Putting the customer's challenges at the heart of every design, Berg sales engineers apply unmatched energy management experience to create built up or skid mounted systems using both ammonia and synthetic refrigerants.
Berg is active in the recreational ice sector as well as the general industrial sector across Canada, the United States, and elsewhere in the world.  We have the resources and abilities to build very sophisticated industrial process equipment skids, packages, and solutions, and to meet stringent design specifications. 
Wherever unique cooling needs exist, in multiple industries and in varying environments around the globe, clients trust Berg expertise. Contact us today to find out more.