For over 45 years, Berg has consistently provided expert chilling solutions and outstanding customer service to a wide range of industries and applications worldwide. Berg's recreational ice refrigeration experts ensures that the ice rink systems meet your cooling challenges through the latest technology and best industry practices.
In 2018, Berg provided a turnkey replacement of the synthetic ice rink refrigeration system for the National Gallery of Art's Sculpture Garden Ice Rink. The seasonal ice rink was in need of an upgrade and with Berg's expertise, the rink was able to operate just in time for the ice rink season. The ice rink cooling system included a skid mounted indoor ice rink chiller with water-cooled condenser producing 130TR supplied in two modules (due to space restrictions), electrical panel with touch screen HMI, heat reclaim tank unit with buffer, snow melt pump and circulation pump. Berg's ice rink refrigeration experts also ensured a seamless operation of the new system by performing the demolition and removal of the original chiller, along with mechanical installation and commissioning of the new system.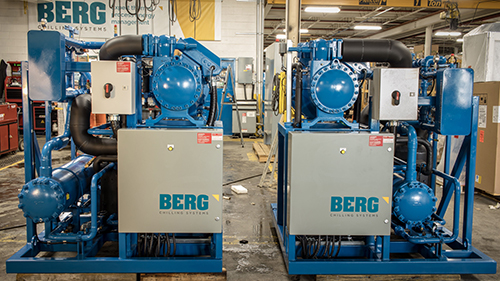 To find out more about the project, click here:
About Berg Chilling Systems
Berg custom designs, manufactures, installs, and services cost-effective chilling solutions for recreational ice rinks including curling, hockey and pleasure skating rinks. Unlike other ice rink chiller manufacturers, Berg's refrigeration experts know chilling down to the core. Putting the customer's challenges at the heart of every design, Berg sales engineers apply unmatched energy management experience to create ice rink refrigeration equipment and built up or skid mounted systems using both ammonia and synthetic refrigerants, including indoor and outdoor ice rink chillers.
Berg is active in the recreational ice sector as well as the general industrial sector across Canada, the United States, and elsewhere in the world. We have the resources and abilities to build very sophisticated industrial process equipment skids, packages, and solutions, and to meet stringent design specifications.
Wherever unique cooling needs exist, in multiple industries and in varying environments around the globe, clients trust Berg expertise. Contact us today to find out more.