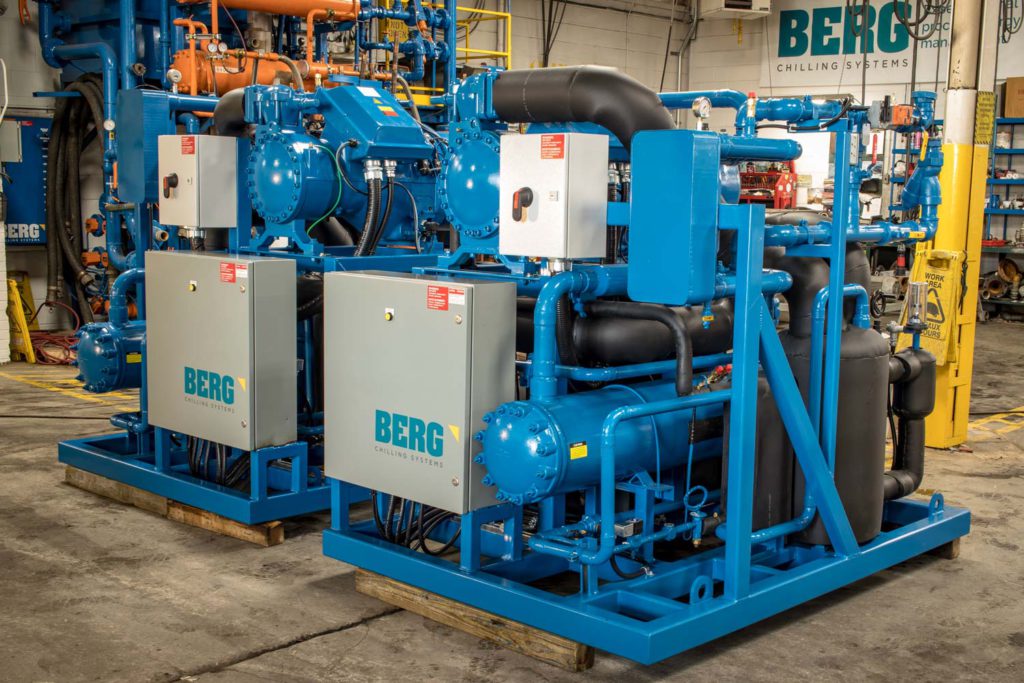 The Fuel Tank facility at Fishers Arena is a two pad arena located in Fishers, Indiana whose ice rink refrigeration system was outdated and at the end of its lifespan. The facility is the home of the Indy Fuel, a professional hockey team in the ECHL.
Berg Chilling Systems was brought in to manage the system upgrades, and teamed up with IB Storey and Guest Automation to complete the task.
Planned Updates to the Ice Rink Cooling System
The facility's current cooling system was installed in 1996 and was near the end of its expected lifespan. The system was experiencing multiple failures and compressor rebuilds, and the facility management knew it needed to be replaced.
Berg's recommended updates included a complete, factory assembled, and tested packaged solution. The goal was to be able to quickly put it together on-site to reduce interruptions to regular operations of the facility and to minimize disruption of the mechanical room.
The proposed design consisted of four new chiller modules, each with their own self-contained refrigeration circuit for added redundancy. The system also included two pumping packages, a prefabricated glycol condenser and chilled glycol manifolds with control valves.
Ice Rink Cooling System Highlights
Berg oversaw decommissioning of the old equipment, installation and start-up of the new system, and operator training. Guest Automation created a completely automated controls package designed to integrate with all equipment packages, which also allows for maximum capacity control and optimal energy efficiency. Details of the new system include:
Four modular water cooled Opteon XP10 ™ chiller packages.
Two glycol pumping stations with variable frequency drives.
One closed circuit fluid cooler with variable frequency drives.
Heat reclaim integration.
The new system will use Opteon™ XP10, produced by The Chemours Company. Opteon™ refrigerants are non-ozone depleting and have a low GWP (global warming potential). As part of the NHL Greener Rinks Initiative, Opteon is the official refrigerant solution of the NHL and The Indy Fuel is the first professional team to use this new refrigerant in their facility.
Benefits to the System Upgrades
In addition to being much more reliable, the new system will have a number of additional benefits. These include better performance, overall energy savings, and increased reliability. Adding automation into the new system, decreasing its footprint and creating a much more organized mechanical room will allow for greater efficiency in the facility management's workflow. The new refrigerant also has a number of benefits including a much lower GWP (global warming potential) and reduced ozone depletion than the previous refrigerant (R22).
Ice Rink Refrigeration: Chemours Opteon XP-10™
The new system's primary refrigerant will be Chemours Opteon XP10 (R513a). This is a new HFO (hydrofluoroolefin) refrigerant blend that is non-toxic/non-flammable (Class A1) and has excellent thermal properties in addition to its environmental advantages. When comparing the new refrigerant with other kinds the environmental benefits can be clearly seen.
R513 (new refrigerant): 573 GWP
R22 (previous refrigerant): 1,810 GWP
R134a (commonly used refrigerant): 1,430 GWP
R507 (low temperature refrigerant): 3,985 GWP
Because of the high global warming potential of HCFC (Hydrochlorofluorocarbons) refrigerants, The Montreal Protocol aims to phase out the use and production of these refrigerants by 2020, and HFC (hydrofluorocarbons) refrigerants by 2025. The NHL and The Chemours Company partnered to work with community ice rinks across North America to assist in their transition toward using environmentally-preferable and cost-effective refrigerant alternatives.
"We need to make our arenas as efficient as the athletes that use them. Today, implementing environmentally sound practices and technologies does not require sacrifice. Just like the game of hockey, it is all about performance," says Mike Richter, former NHL player.
There are more than 4,800 indoor ice rinks, in North America with an average age of 30 years. The NHL encourages the use of new technologies and techniques available to improve facility operations and reduce their environmental impact. This project is one of many that the NHL and Chemours are collaborating on.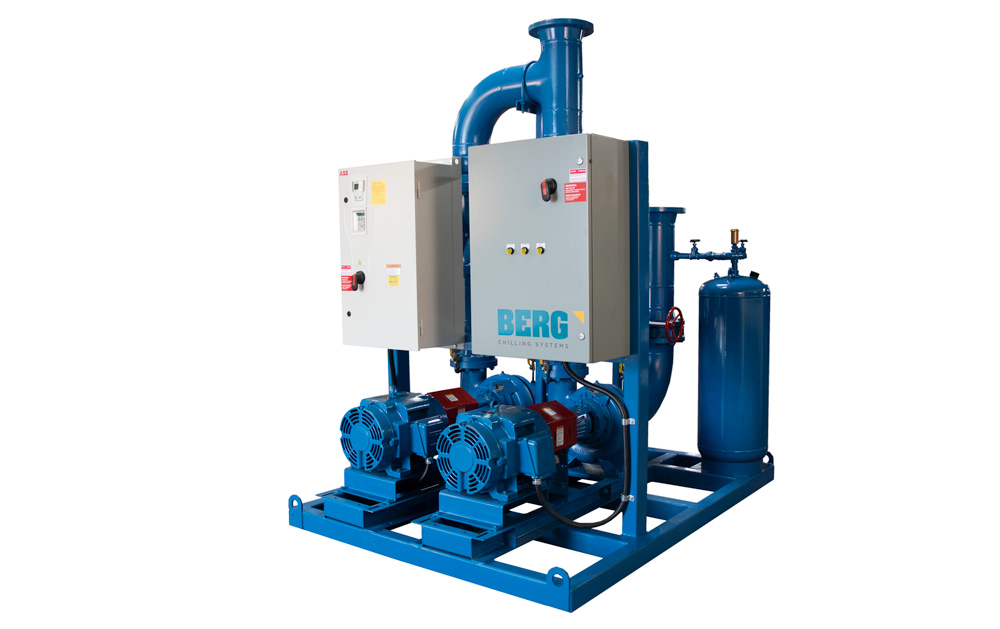 Berg Chilling Systems
Berg Chilling Systems produced a factory assembled system that, like all their factory-built chillers, was tested under load to verify its functionality, safety control logic, and wiring. The Fishers' system was fully assembled and connected to Berg's test bench where a thermal load was applied, and the glycol brought down to design temperature. The system was fine-tuned in the factory before it was shipped, which allowed for a large reduction in time spent in the field in addition to ensuring long lasting and trouble-free operation.
Berg Chilling System is committed to providing quality ice rink systems that integrate with the latest technology in order to create efficient, cost-effective, and environmentally friendly solutions.