Food Grade Lubricants, Grease & Bearings
There are many different types of food grade lubricants that can be used in the food and beverage industry. Food-grade, food-plant, FDA listed, NSF certified, the list is vast and making your way through the best practices and standards, and various terminology can be overwhelming.
Eliminating excess friction and heat generation by maintaining proper lubrication is essential to the smooth operation of your rolling bearing and rotating machinery. Efficiency and safety created by choosing the right food grade lubricants and bearings means more profit due to increased equipment reliability, and reduced production-line downtime.
Labour, spare parts usage, and energy consumption are all impacted by the maintenance of a proper lubrication program. A maintenance manager's time use can be lessened by extending relube intervals. Properly lubricated components will last longer, and so your usage of spare parts can also be reduced. Finally, usage of high-quality, specialty food grade lubricants help to increase energy efficiency in regards to operating the facility, as well as increasing machine efficiency.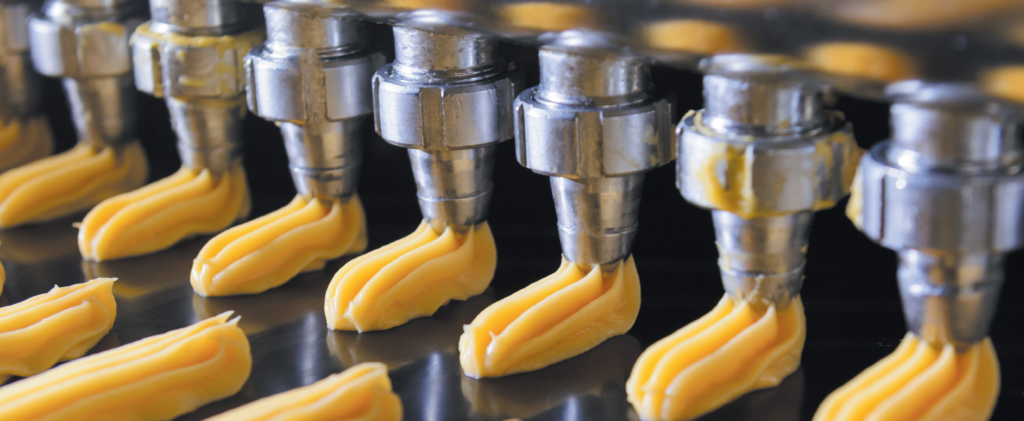 Food Grade Lubricants
The food and beverage processing industry is the second largest manufacturing industry in Canada, with shipments in 2014 worth over $105.5 billion. It's the largest manufacturing employer in the country and provides employment for more than 246,000 Canadians.
Working with multiple regulatory bodies provides a unique set of challenges, in addition to providing a safe working space for employees to produce hygienic goods, and so ensuring your automated and complex equipment stays running smoothly is paramount. A successful food and beverage maintenance engineer knows it takes more than having the right machinery to stay on top of the task.
Lubricant Types & Recommendations
There different classes of lubricants that can be used depending on their application. When dealing with food grade lubricants there are three classes.
H1 registered food grade lubricants are suitable machinery situations such as canning, bottling, chilling, cooking, slicing and peeling. As well they can be found in machinery gearboxes, chain drives and conveyor belts. They eliminate potential contamination with any hazardous substances, while still maintaining optimal equipment performance. This class of lubricants are physiologically inert, odourless and tasteless, and thus comply with all food regulations and make them ideal for unavoidable contact with food products up to 10 ppm.
H2 lubricants can also be used in facilities that manufacture and process food products, but only in situations where there will be no contact with food. You will commonly find them on machine parts in closed systems.
H3 lubricants are used in direct contact with food products, and can be used in the formation of products as 'edible oils'. They are safe for human consumption and will often be an oil such as soybean, corn or sunflower. They are also used to clean machinery, or help to prevent rusting on items like conveyor belts, trollies and hooks.
Outside of these three classes you will find products such as:
H3G is a food-derived grease lubricant that offers low torque, excellent water resistance and minimal leakage. It can be used up to temperatures of 90C, and can be found in Halal and Kosher food production manufacturing plants.
KPM grease is usually recommended for high heat applications up to 230C, and will last 5x longer than fluorine greases.
Molded-Oil lubricant grease is suitable for corrosive and dust-contaminated environments. It offers a consistent supply of lubricant within rolling element surfaces without requiring re-greasing. It also prevents leakage from bearing perfect for facilities requiring high levels of hygiene and sanitation.
ELP (extreme lubricant penetrant) is a new bio-based general purpose lubricant. This high-performance lubricant and penetrant is biodegradable and soy-based. It is manufactured from natural seed oils and select additives to provide excellent performance with a low environmental impact.
Bearing Usage in Food and Beverage Production
Another important aspect of food and beverage maintenance is your bearing choice. A bearing with a proper lubricant will reduce the friction between the internal parts, and prevent rubbing of metal on metal. It will reduce wear and corrosion which will result in longer usage. The bearings used inside of machines must be rust proof, resistant to continual washdowns, and retain proper lubrication in order to avoid equipment malfunction, and contamination in other parts of the machine and facility.
Bearings that are sealed for life with lubrication are recommended in order to avoid needing grease reapplication. Ceramic bearings do not react to temperature changes and will not leach lubricant or corrode over time, as such they are recommended for use in hot and cold applications.
Questions to ask when purchasing food grade lubricants & bearings:
Where will this be used?

preparation area, used within a heat or cold application zone, or within past processing and packaging?

Is there excessive moisture and contamination?
Are there caustic cleaning agents?
Proactive Lubrication Management
Creating a proper lubrication management plan can help reduce friction, excessive heat generation, bearing and seal damage. It will increase your production reliability, improve efficiency and reduce your ongoing maintenance costs. Making the right lubrication choice will result in success or failure in your equipment, but it's difficult to make these decisions due to the wide availability of lubricants. Our technicians will visit your facility to measure and monitor your equipment efficiency, and discuss your company's' unique processing and packaging needs.