Refrigeration Solutions for the Food & Beverage Industry
For over 45 years, Berg Chilling Systems Inc. has built an international reputation for designing, manufacturing installing, and servicing thousands of industrial thermal process control and industrial refrigeration systems to customers worldwide. Berg continuously provides reliable, custom cooling solutions in more than 50 countries in industries defined by transportation, chemical & petrochemical, manufacturing, building & construction, food & beverage, national defence, natural resources, recreational sports and more.
Today's consumers demand the highest standards when it comes to food and beverage processing. To exceed customer expectations, maintain cost competitiveness, and meet regulatory requirements, food and beverage producers turn to Berg for total chilling solutions. Berg has provided industrial process temperature control solutions with chilling, pumping and freezing equipment to achieve proper food processing temperatures and maintain the cold chain to prevent spoilage.
Berg shell ice machines are used in the food and beverage industry in many ways. Shell ice can be used for preserving perishables such as produce, meat, poultry and seafood, as a water ingredient in bread making, or as chiller tank ice for poultry and meat processing.  The shell ice machines can also be used to produce blood plasma and frozen juices 
Ice Making Solutions for a Broccoli Produce Farm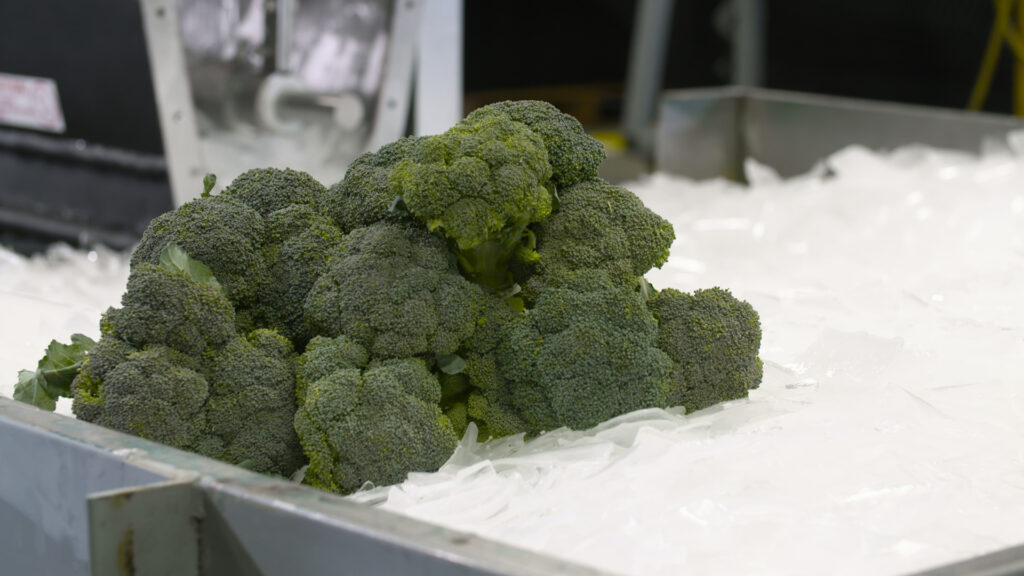 In 2016, Berg had the honour of supplying an Ontario-based vegetable produce facility with its custom industrial cooling systems. The facility has a broccoli farm and packs ice in the boxes to keep its broccoli fresh. This is done in a vacuum chamber. With that in mind, the broccoli farm needed a more efficient, environmentally friendly system to help in the ice production and storage of growing of its broccoli and other produce at its Burford facility. In addition, the farm had already been using four of Berg's first model of shell ice machines to aide in its ice production and was due for a refurbishment and upgrade of their shell ice makers.
Berg supplied them with four (4) shell ice making machines equipped with a remote air-cooled condenser, a condenser stand designed and fabricated to support the four industrial ice machines above the storage container, and an auger system. The ice makers are capable of supplying 15 US tons of fresh water ice per day, based 60°F make-up water temperature and 90°F ambient air temperature. The shell ice makers were charged with R-404A refrigerant and featured an ice thickness customization between 1/8" to 5/8" to suit the facility's particular ice requirements. In addition, Berg's refrigeration experts also did the installation, start-up and commissioning of the systems.
With Berg's shell ice makers, the broccoli facility was able to produce ice more efficiently than other ice machines, requiring less electricity per ton of ice to operate.
Shell Ice Making Machines Expertly Designed and Made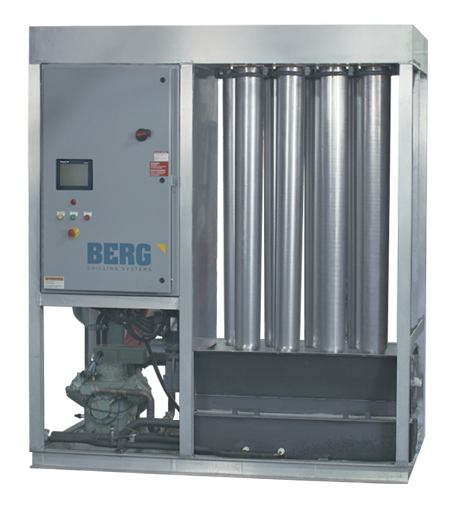 Berg's refrigeration experts took the process of ice making to the next level by designing a shell ice maker that is compact, energy efficient, environmentally friendly, and technologically advanced. Berg's Shell Ice Makers are solid and reliable, and have become the industrial ice making machines of choice across a wide range of industries and applications.
With applications in the fishing, food processing, produce, meat and poultry, and construction industries, the Berg Shell Ice Maker has a number of noteworthy features that can help any industry or application with their cooling needs:
Can produce 5 to 20 tons of fragmented ice per day
Food grade wetted parts
Fresh or saltwater ice
HMI with variable ice thickness control
PLC control with data collection and trending
Low GWP refrigerant, low charge
Smaller footprint than previous generation
IOT ready, remote access control
Heavy duty curtain
Click here to learn more about how our Berg Shell Ice Maker works.
About Berg Chilling Systems
Berg Chilling Systems designs, manufactures, installs, and services custom industrial cooling systems for a broad range of industries and specialized applications around the world. For more than 45 years, Berg continues to satisfy customers with 5,000 chilling systems in more than 30 industries across 50 countries. From our Toronto-based facility, we design, manufacture, test, and integrate skid-mounted process refrigeration equipment, mechanical packages, and fluid pumping systems using both natural and HFC refrigerants for ease of installation and commissioning.
Contact Berg Chilling Systems Inc.'s Service Department today to learn more about how we can help you with your cooling needs.