Whether you're constructing a new rink or enhancing your mechanical room, you demand reliability, durability, and cost-effective operations. With five decades of expertise in the ice rink refrigeration sector, Berg remains a steadfast source of top-notch quality, delivering exceptional ice rink cooling systems designed for both natural and synthetic refrigerants within the recreational ice industry.
Berg's versatile product line caters to a myriad of markets and industries. We specialize in designing, manufacturing, testing, and integrating skid-mounted industrial process refrigeration equipment, mechanical packages, and fluid pumping systems that ensure ease of installation and commissioning. Collaborating closely with our clients, our engineers craft indoor air-cooled chiller designs that harmonize with both financial and operational needs.
In 2020, Berg embarked on a comprehensive project involving the supply, delivery, and installation of lifecycle upgrades for two ice rink chillers. This undertaking included the intricate task of removing the entire ammonia charge within the chilling system at the Newcastle and Orono Arenas.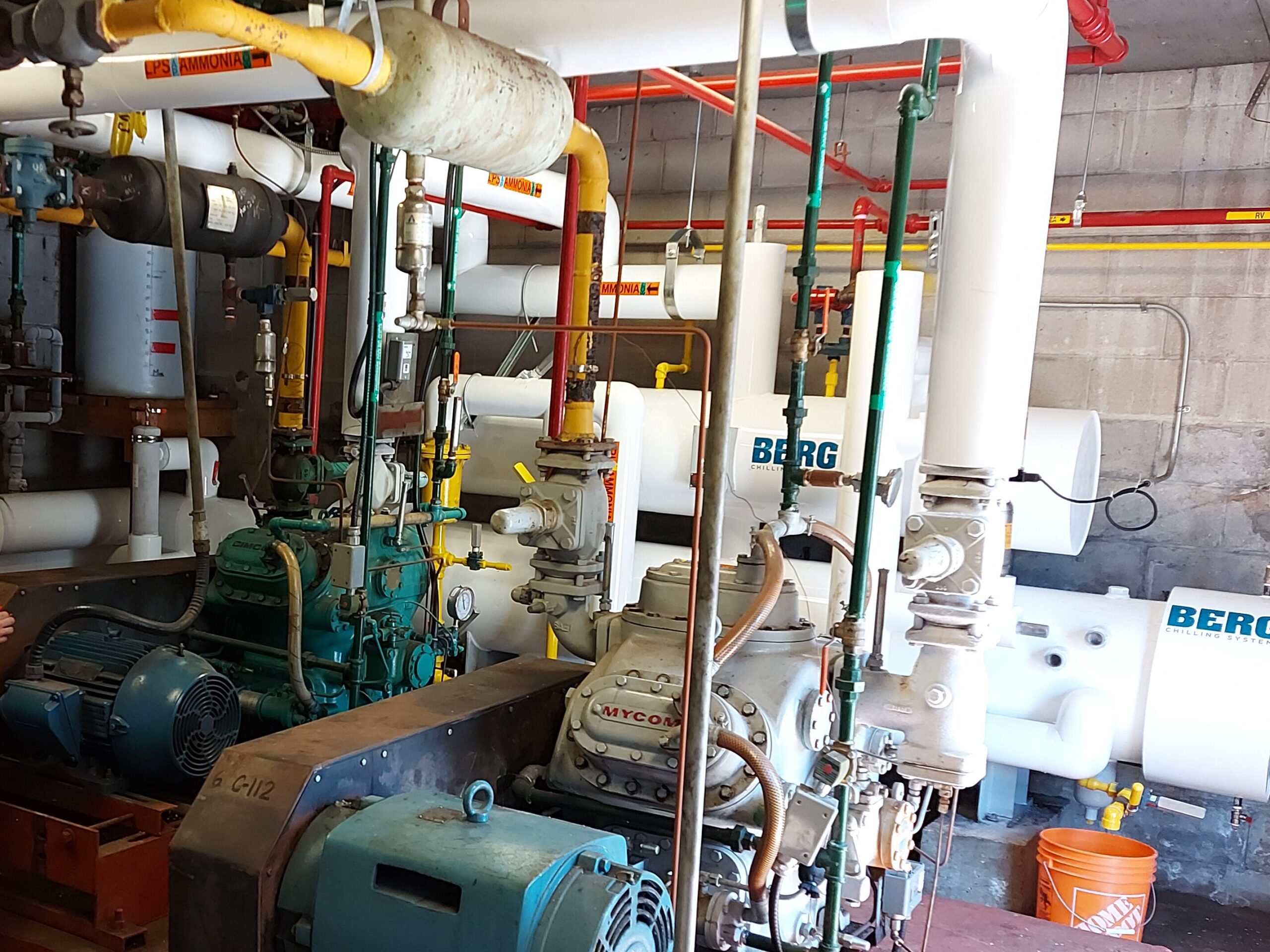 This ice rink unit lifecycle upgrade project comprised of reworking brine return and brine supple lines in the engine room to the chiller. Additionally, on-site fabrication of brine supply and return lines was executed, complemented by the provision of essential pipe and fittings. New valves (butterfly, drain) were supplied and installed on brine lines, alongside the incorporation of new thermometers (supply and return). Moreover, the project encompassed the supply and installation of necessary insulation, and the re-insulation of both compressor suction lines to the chiller, bolstering the overall efficiency and performance.
To find out more about the project, click here:   
About Berg Chilling Systems
Berg custom designs, manufactures, installs, and services cost-effective chilling solutions for both synthetic and ammonia curling rink chillers and other recreational ice rinks. Berg's refrigeration experts know chilling down to the core. Putting the customer's challenges at the heart of every design, Berg sales engineers apply unmatched energy management experience to create built up or skid mounted systems using both ammonia and synthetic refrigerants.
Berg is active in the recreational ice sector as well as the general industrial sector across Canada, the United States, and elsewhere in the world. We have the resources and abilities to build very sophisticated industrial process equipment skids, packages, and solutions, and to meet stringent design specifications.
Wherever unique cooling needs exist, in multiple industries and in varying environments around the globe, clients trust Berg expertise. Contact us today to find out more.