Established in 1972, Berg specializes in crafting bespoke industrial chillers and thermal management systems. Our portfolio boasts the successful provision of numerous industrial refrigeration systems to clients spanning over 50 countries, across diverse sectors including mining, transportation, chemical & petrochemical, manufacturing, construction, food & beverage, national defense, natural resources, and recreational sports. Our unwavering commitment to quality is exemplified by our ISO 9001:2015 certification, TSSA and ASMA certificates of authorization, CSA electrical facility certification, and registration with the Canadian Welding Bureau.
For the food and beverage industry, maintaining stringent cooling standards to prevent foodborne illnesses is paramount. Berg Chilling Systems acknowledges this critical need and is dedicated to furnishing refrigeration solutions compliant with regulatory standards, including those mandated by CFIA. In the realm of process cooling, ensuring top-tier standards, cooling practices, and food safety remains a cornerstone. In response, Berg is resolutely focused on delivering custom-engineered refrigeration equipment tailored to the unique demands of diverse food and beverage systems. Our collaborative approach ensures that our custom-designed chilling systems not only meet but exceed our clients' expectations and industry standards.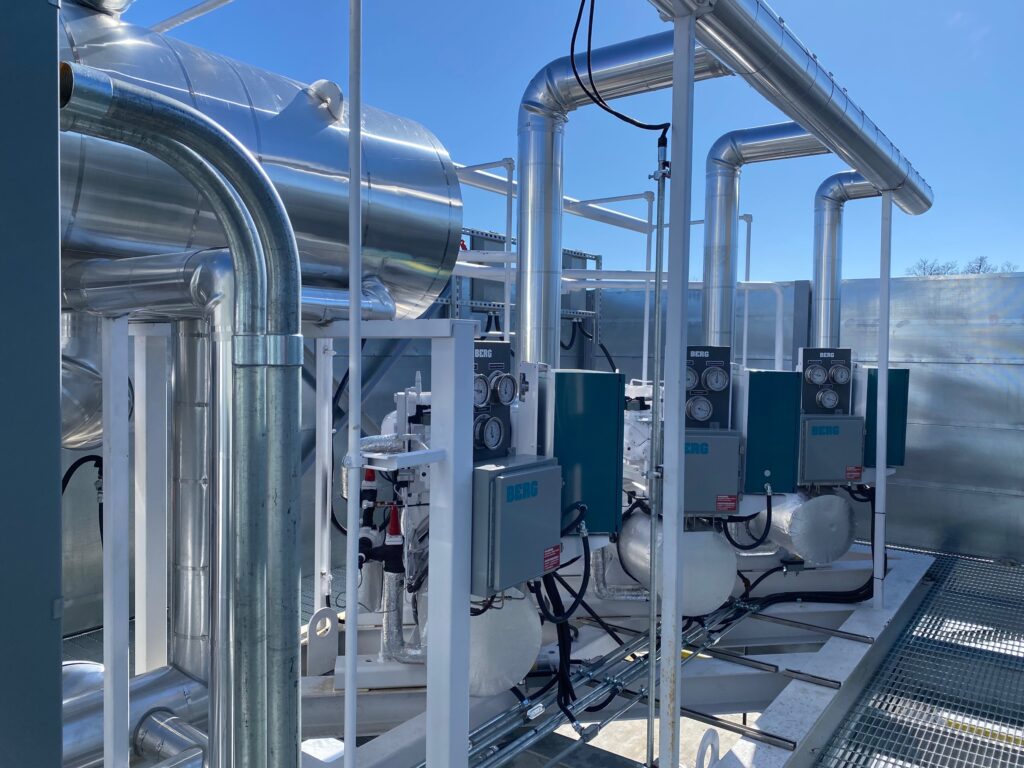 In 2022, Berg delivered a meticulously tailored Open Skid Ammonia Glycol Chiller System to a prominent food processing company. The outdoor ammonia chiller package is charged with a 105TR cooling capacity and R717 refrigerant, equipped with three efficient screw compressors, a coalescent oil separator, and an oil cooler with an accompanying pump. Additionally, the package featured a plate and frame chiller complete with a surge drum and oil pot, all expertly integrated, piped, and wired onto a sturdy structural steel frame.
Berg's commitment extended beyond supply, as their offering included comprehensive installation, start-up, and commissioning services, ensuring seamless integration and optimal functioning of the provided system.
To find out more about the project, click here:
About Berg Chilling Systems
Berg custom designs, manufactures, installs, and services cost-effective chilling solutions for various applications and industries. Unlike other industrial ice makers, Berg's refrigeration experts know chilling down to the core. Putting the customer's challenges at the heart of every design, Berg sales engineers apply unmatched energy management experience to create built up or skid mounted systems using both ammonia and synthetic refrigerants. Wherever unique cooling needs exist, in multiple industries and in varying environments around the globe, clients trust Berg expertise. Contact us today to find out more.