Berg Chilling Systems Inc. is a global provider of industrial thermal process control systems, offering design, manufacturing, installation, and servicing solutions for a wide range of industries and specialized applications. With over 50 years of experience, we have established ourselves as a leading player in the field of thermal management solutions, having delivered customized solutions for processes involving pumping, chilling, freezing, and heating on a global scale. Berg industrial outdoor air-cooled chillers are used to conserve plant floor space by enabling the cooling system to be placed outside, either beside the building or on the roof.
In 2022, Berg has an opportunity to support Public Works and Government Services Canada with its facility upgrade. Berg custom designed and supplied an outdoor chiller package for additional cooling of the RAM 5 Mixer system.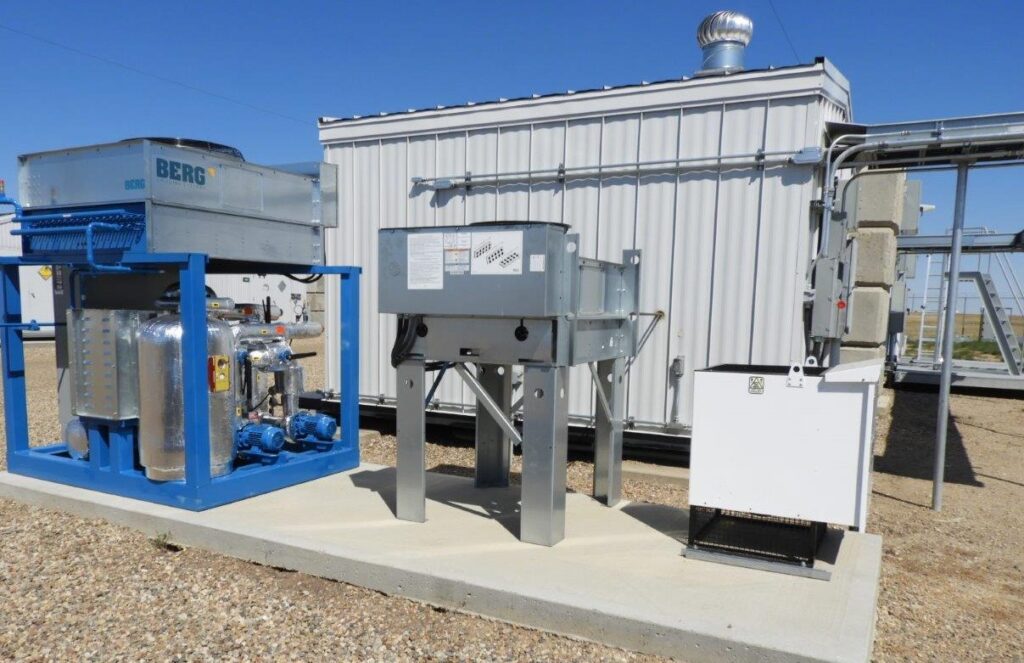 The package included one air-cooled 10.5TR outdoor chiller using Option XP40 (R-449A) refrigerant, one Hermetically Sealed Scroll Type Compressor, one Air-Cooled Fin and Tube Condenser, one Brazed Plate Evaporator, two Centrifugal Circulation Pumps (one process and one chiller recirculation), one High Pressure Receivers, one Pressure Tank, one Electronic Modulating Hot Gas Bypass, one CPR Valve, one Air Separator, Heat Tracing & Insulation, Process Piping, Process drain and fluid Fill, one Electrical Control Panel, Centralized PLC System, and Touch Screen HMI. Berg services also included factory-testing, and freight to site.
To find out more about the project, click here:
About Berg Chilling Systems
Berg custom designs, manufactures, installs, and services cost-effective chilling solutions for both synthetic and ammonia curling rink chillers and other recreational ice rinks. Berg's refrigeration experts know chilling down to the core. Putting the customer's challenges at the heart of every design, Berg sales engineers apply unmatched energy management experience to create built up or skid mounted systems using both ammonia and synthetic refrigerants.  
Berg is active in the recreational ice sector as well as the general industrial sector across Canada, the United States, and elsewhere in the world. We have the resources and abilities to build very sophisticated industrial process equipment skids, packages, and solutions, and to meet stringent design specifications. 
Wherever unique cooling needs exist, in multiple industries and in varying environments around the globe, clients trust Berg expertise. Contact us today to find out more.