Berg Chilling Systems Inc. specializes in the creation of indoor air-cooled industrial chillers engineered for process cooling applications. These innovative systems are designed to efficiently convert excess heat generated by molds, rolls, and similar equipment into hot air, thereby serving as a valuable source of facility heating. Renowned as waste heat recovery units, also referred to as heat recyclers, these chillers play a dual role by offering supplementary heating during winter and effective ventilation throughout the summer months. This flexibility is achieved through precise damper adjustments within the ductwork.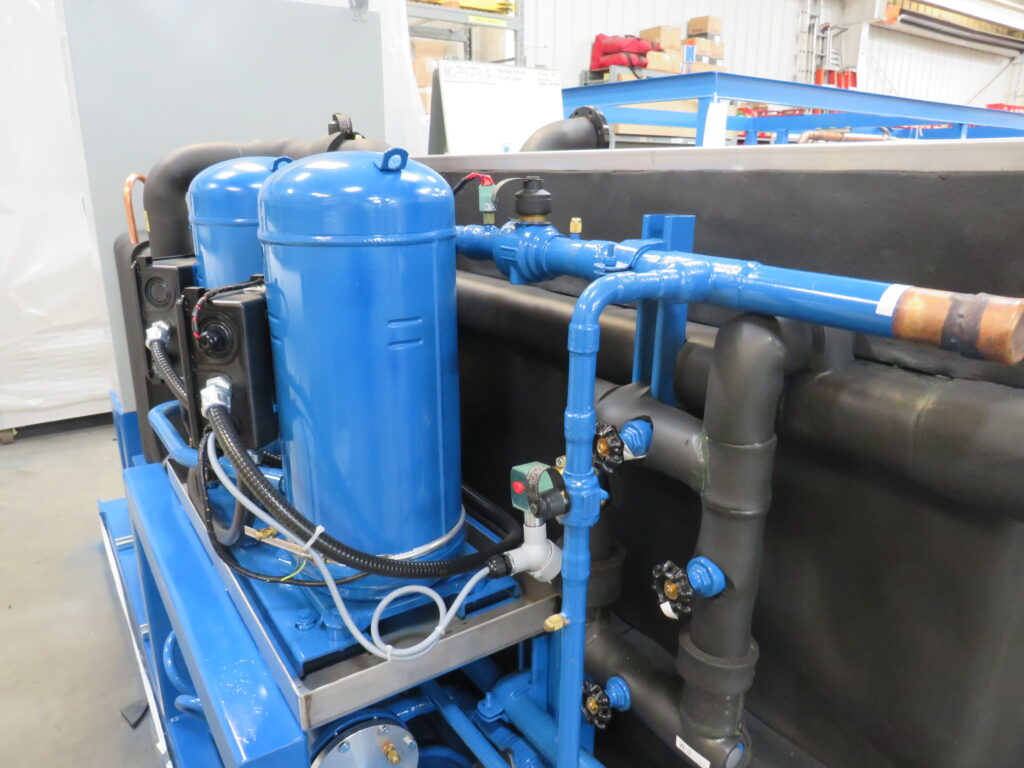 Our extensive portfolio boasts a track record of delivering cutting-edge industrial refrigeration solutions to clients across more than 50 countries. Our reach spans a diverse range of industries, encompassing transportation, chemical and petrochemical sectors, manufacturing, construction, food and beverage production, national defense, natural resource management, recreational sports, and more.
In 2022, Berg embarked on a noteworthy project involving the custom design and deployment of a remote split air-cooled chilling system. This intricate system was meticulously tailored to cater to the unique requirements of a testing facility within a molding manufacturing company. An exceptional feature of this chiller is the inclusion of a remote condenser, strategically positioned on the rooftop to ensure efficient heat dissipation and prevent indoor heat accumulation.
This comprehensive chilling solution comprised a skid-mounted 28TR packaged indoor chiller equipped with a remote rooftop air-cooled condenser utilizing R407c refrigerant. The system featured a tandem scroll compressor, a brazed plate and frame evaporator, a stainless steel chiller tank complete with pumps, a Temperature Control Unit (TCU), a high-pressure receiver, a PLC controller, and underwent rigorous factory testing to ensure peak performance."
To find out more about the project, click here:
About Berg Chilling Systems
Berg custom designs, manufactures, installs, and services cost-effective chilling solutions for both synthetic and ammonia curling rink chillers and other recreational ice rinks. Berg's refrigeration experts know chilling down to the core. Putting the customer's challenges at the heart of every design, Berg sales engineers apply unmatched energy management experience to create built up or skid mounted systems using both ammonia and synthetic refrigerants.
Berg is active in the recreational ice sector as well as the general industrial sector across Canada, the United States, and elsewhere in the world. We have the resources and abilities to build very sophisticated industrial process equipment skids, packages, and solutions, and to meet stringent design specifications.
Wherever unique cooling needs exist, in multiple industries and in varying environments around the globe, clients trust Berg expertise. Contact us today to find out more.