The Evolution of Ice Rink Maintenance and How Dehumidification Benefits Players and Spectators Alike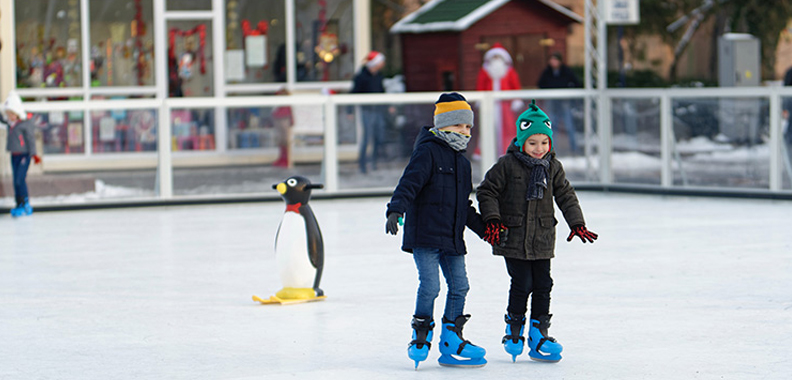 Humidity and air quality play a large role in ice rink maintenance. Ice rink dehumidification units and processes have evolved a great deal over the years as early arenas were not built to withstand temperature variances encountered today. By understanding the evolution of ice rink maintenance and learning about the new dehumidification technologies available, ice rink technicians can gain valuable insights for keeping their facilities operating at optimum levels.
Dehumidification Not a Concern for Early Ice Rink Technicians
The first generation of arenas were built to provide a comfortable indoor environment from the harsh cold outdoor conditions for skaters and spectators alike. They were never intended to operate year-round.
Ice was put in for a short season and most of the operating hours were in the cold winter months. The Stanley Cup Finals were always finished up by the third week of April when temperatures outside were still quite low.
With low outdoor temperatures, humidity was rarely a concern for ice rink managers.
Ice Rink Popularity Introduced New Challenges to Ice Rink Maintenance
As time went on, however, and the popularity of ice sports grew, ice rinks began to operate beyond the winter months. This raised humidity levels and new concerns for ice rink owners.
In 1967, the NHL expanded their number of teams and the playing season extended through mid-May. Condensation on the arena glass interfered with spectator viewing and even the sport itself was affected as fog obscured the vision of skaters and players. The third game of the 1975 cup finals held in Buffalo on May 20th made history for the uncontrollable heavy fog in the rink.
Demand for ice time continued to grow at the professional and recreational level. More and more off-season practice camps and tournaments were scheduled. Even summer leagues became available.
For years, ice rink maintenance has faced the challenge eliminating fog and maintaining healthy air quality while keeping ice frozen and smooth.
Evolution of Dehumidification In Ice Rink Maintenance
An early attempt at removing the formation of fog from the ice rink involved moving air over the surface with fans. Unfortunately, this caused more problems with the ice quality.
Exhausting air continuously was tried but unfortunately, the air that replaced the exhausted air (or what we might call make-up air), was not properly treated or de-humidified, making a bad situation worse.
As time went on and more ice rink maintenance studies were conducted it was determined that high humidity coming into contact with a cold surface produced even further problems when introduced to beams, boards, and unwanted drips on the ice. When left unchecked the walls, floors, and other ice rink surfaces would acquire a heavy build up of unwanted biological growth and molds.
The challenge for ice technicians was (and is) to maintain a safe, solid, and smooth sheet of ice when the indoor humidity, or "dew point," increases to the point that is way above freezing.
To keep frost from building up on the ice, and to keep the ice from becoming too soft during spring and summer months, ice technicians are forced to run the ice plant at very low temperatures, resulting in big ruts and heavy snow accumulation from the skaters.
The goal for any arena is to have a source of ventilation that provides drier than the arena design level of humidity. In other words, the net dew point from all the air handlers supplying the arena must be below the dew point design level.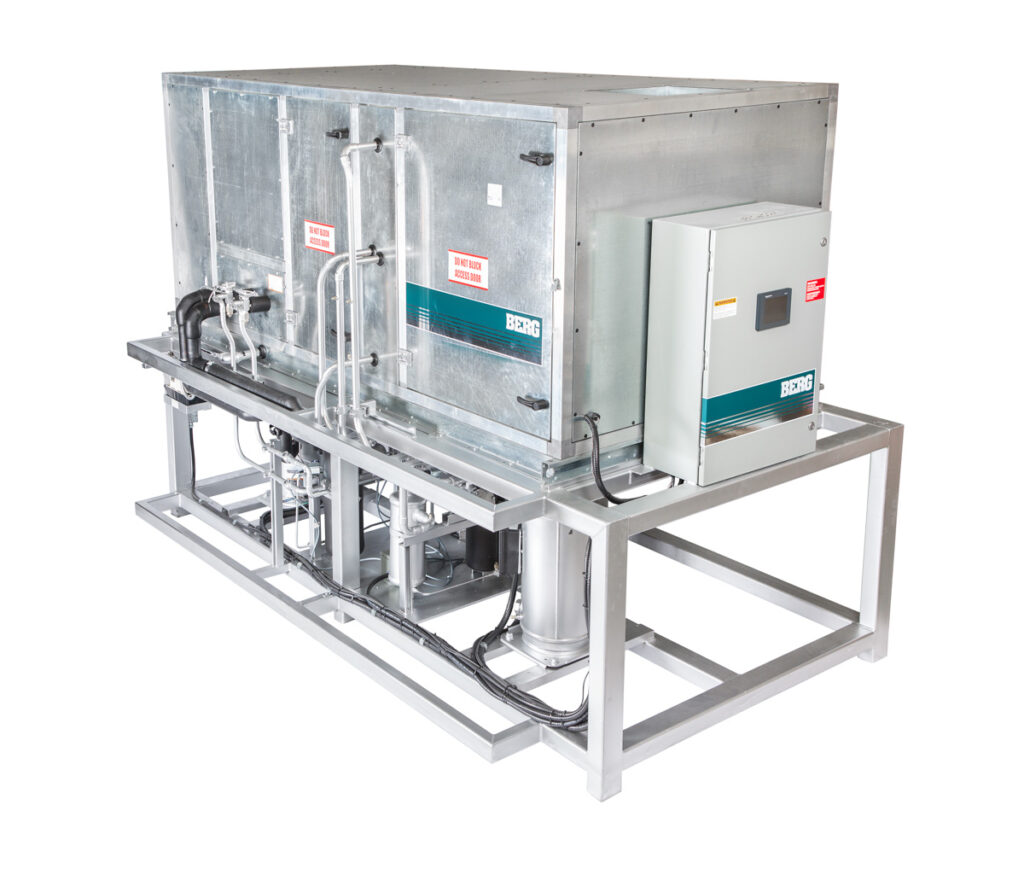 Modern Desiccant Dehumidification Systems Greatly Enhance Ice Rink Maintenance
Today's arenas are designed with recreational ice rink chiller systems and dehumidification units that provide a reliable source of very dry air while keeping temperatures cool.  These industrial dehumidifiers can easily achieve dew point temperatures of 40-45°F which allow cooled surfaces to operate at temperatures above this without fear of condensing moisture.
In larger facilities, large air handlers using low temperature chilled water have been used with mixed results. But for most recreational facilities desiccant dehumidification systems have proven to be the most effective source of very dry air.
A desiccant is a substance or a chemical that causes a state of dryness in the surrounding area by absorbing and attracting moisture from the air. Desiccant dehumidification units remove moisture from the air at low temperatures and low humidity levels thus producing the low dew point levels needed to maintain a healthy ice rink.
Take Aways for Ice Rink Managers
Like humans, a building's health is directly related to air quality. Failing to control moisture trapped in the air will dramatically reduce the life-cycle of the materials used in the construction and negatively impact ice rink maintenance.
Berg Industrial Service installs and services custom ice rink chiller systems, air handlers and all types of dehumidification units and systems for optimum ice rink maintenance.
Contact us today to learn more about how we can help you keep your rink cold, safe, and enjoyable for everyone.