UOIT Chooses Berg Chilling Systems to Supply Core Climate System for their Climatic Wind Tunnel.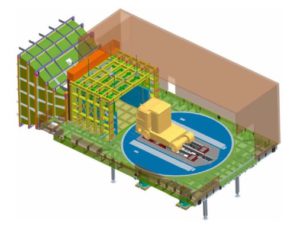 The of University of Ontario Institute of Technology (UOIT) Climatic Wind Tunnel (CWT) is a key component of a major new initiative to aid indigenous Canadian Automobile research and development. It is the centrepiece in the Automotive Centre of Excellence (ACE), funded largely by the province of Ontario, with significant help from the Canadian federal government. The investment is also supported by major contributions from the university itself and General Motors of Canada, the anchor tenant. It is part of a much larger re-investment initiative struck between General Motors and the Canadian governments under the beacon project, first announced in 2005. It was designed to help underpin the automotive manufacturing industry and its supplier base in Ontario by establishing an Automotive Innovation Network (AIN).
The primary function of the CWT is to provide an independent, full test capability, for car and truck thermal operation testing in support of the automotive industry in Canada. Unique features include a 7-14.5 m2 variable output nozzle concept to enable a wide range of vehicle sizes and wind speed combinations, and a turntable with chassis dynamometer to enable vehicle tests at yaw. Fabrication of the CWT closed loop air circuit includes the use of thermally insulated custom designed welded steel sections in addition to modular insulated panels.

Berg Chilling Systems supplied six independent process chillers, with a total capacity of 877TR (tons of refrigeration) using 766hp or 358TR using 1,029hp.
Three of the units are designed to work in tandem at a single temperature condition. The total capacity for these process chiller units is 150TR at 200hp.
Three units operate over a range of temperatures. The capacity and hp change with the conditions. At the highest temperature the total capacity of all three process chiller units is 730TR at 550hp. At the lowest temperature the total capacity of all three process chiller units is 210TR at 830hp.
A summary of the wind tunnel output nozzle size, wind speed and temperature simulation envelope for climatic testing is as follows:

In addition, there is provision for future aerodynamic testing by achieving higher wind speeds in the nominal and maximum nozzle sizes, given in the table below:

To facilitate the making of snow, hail, freezing rain and other Canadian as well as global atmospheric weather conditions a Carbon Dioxide (CO2) refrigeration package unit chiller was used.  There are two configurations of snow simulation possible: frontal and overhead. in both cases, snow guns are used to create the snow, as shown in the following table:


A steady state temperature process control cooling system designed for thermal testing by Berg Chilling Systems, with higher intermittent values possible.
The range of humidity control is according to the following table: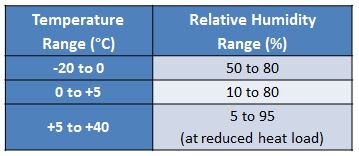 ACE is at the center of this network. The specific need for the climactic wind tunnel was to provide automotive manufacturers (OEM's) and tier 1 suppliers with an independent test capability, to validate prototype car and truck thermal operation under a full range of climatic conditions.  Traditionally, General Motors, as many of their competitors, have maintained outdoor cold weather test facilities in northern central Canada, within a 1,000 km radius of the automotive hub situated around Detroit.  These are positioned at the very extremities of road networks leading into the northern communities. In an effort to expand and build on this expertise and bring the test and development activity indoors under highly replicable conditions operating throughout the year, the climatic test facility described was born from the needs and desires of 21st century automotive development.
Aiolos Engineering Corporation, an international supplier of design, construction, and commissioning services of climatic and other facilities for global customers, and Berg Chilling Systems has worked collaboratively with UOIT on all aspects of facility realization, from test definition to design, construction, and subsequent commissioning.
Watch Rick Mercer from CBC's Mercer Report tour the ACE:
Additional Images of the ACE Environmental Test Chamber:

About Berg Chilling Systems Inc.
Berg Chilling Systems designs, manufactures, installs and services industrial thermal process control systems for a broad range of industries and specialized applications around the world. Over the past 40 years, we have pumped, chilled, frozen and heated our way to the forefront of global thermal management solutions.
Our product range is as diverse as the markets and industries we serve. From our Toronto based facility, we custom design, manufacture, test and integrate a wide range of skid mounted industrial process refrigeration equipment, mechanical packages and fluid pumping systems for ease of installation and commissioning.