UOIT Chooses Berg Chilling Systems to Supply Core Climate System for their Climatic Wind Tunnel.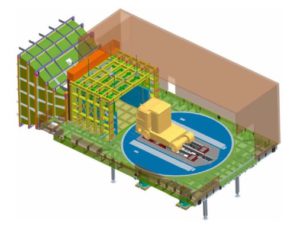 The of University of Ontario Institute of Technology (UOIT) Climatic Wind Tunnel (CWT) is a key component of a major new initiative to aid indigenous Canadian Automobile research and development. It is the centrepiece in the Automotive Centre of Excellence (ACE), funded largely by the province of Ontario, with significant help from the Canadian federal government. The investment is also supported by major contributions from the university itself and General Motors of Canada, the anchor tenant. It is part of a much larger re-investment initiative struck between General Motors and the Canadian governments under the beacon project, first announced in 2005. It was designed to help underpin the automotive manufacturing industry and its supplier base in Ontario by establishing an Automotive Innovation Network (AIN).
The primary function of the CWT is to provide an independent, full test capability, for car and truck thermal operation testing in support of the automotive industry in Canada. Unique features include a 7-14.5 m2 variable output nozzle concept to enable a wide range of vehicle sizes and wind speed combinations, and a turntable with chassis dynamometer to enable vehicle tests at yaw. Fabrication of the CWT closed loop air circuit includes the use of thermally insulated custom designed welded steel sections in addition to modular insulated panels.