Toronto, ON – Berg Chilling Systems Inc. custom-designs, manufactures, installs, and services innovative industrial chilling solutions. Working closely with clients, Berg sales engineers apply their extensive energy management expertise to fully understand and meet clients' cooling challenges.
Gracious Living Corporation, of Vaughan, Ontario is a leading injection and extrusion manufacturer with over 30 years' experience. The company was recognized Thursday, May 18, 2017 by Alectra Utilities (formerly PowerStream) for reducing its electricity consumption through that utility's Save on Energy RETROFIT program. Gracious Living received a cheque for $478,240 as a result of its involvement in the program.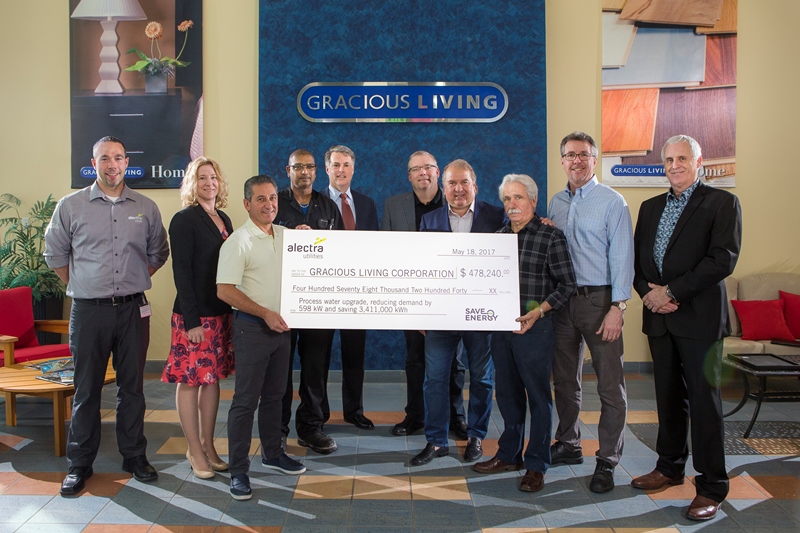 See media release from Alectra here.
The company worked with Alectra and business partner Berg to upgrade the majority of the process water cooling system for the on-site injection molding machines. Three new Berg-designed cooling towers on the roof replaced three original, less-efficient cooling towers. New large tanks/reservoirs, all new pumps and a new control system are expected to result in an overall reduction of approximately 15% in demand and 13% in annual electricity usage at the facility. The conversion will reduce the company's electrical demand by 598 kilowatts and electricity consumption by 3,411,093 kilowatt-hours per year, the equivalent of removing 389 homes from the grid. As a result, Gracious Living will realize annual electricity savings of over $410,000.
"Gracious Living has demonstrated an active approach to managing their energy costs and their desire to continuously improve serves as an example to other companies to pursue similar objectives," said Raegan Bond, VP, Conservation and Demand Management for Alectra Utilities."
Don Berggren, President of Berg, said recently, "The Gracious Living project is a great example of what we do. While we are a manufacturer and system integrator, our primary product is energy management engineering expertise. When we are called in to a project, our role is to increase efficiency, reduce energy costs, and optimize environmental factors."
About Berg Chilling Systems
In its 45-year history, the company has set the standard in dedicated high-efficiency chilling systems. Providing Industrial process temperature control solutions with chilling, pumping, and freezing equipment, Berg satisfies customers in more than 30 industries across 50 countries. Wherever unique cooling needs exist, in multiple industries and in varying environments around the globe, clients trust Berg expertise. Learn more at http://berg-group.com