Preventing Ammonia Leaks: 6 Questions Chilling System Operators Need to Answer
A recent ammonia refrigeration leak in British Columbia has resulted in the tragic death of three ice rink workers and the evacuation of an entire community. This devastating news is sobering to those of us who work in chilling system industries. We are likely aware of the potential hazards associated with ammonia refrigeration, but times like these remind us how important it is to ensure safety policies are in place and practiced. The accidental release of ammonia can be prevented by taking steps to ensure that pipes and vessels are in top working condition.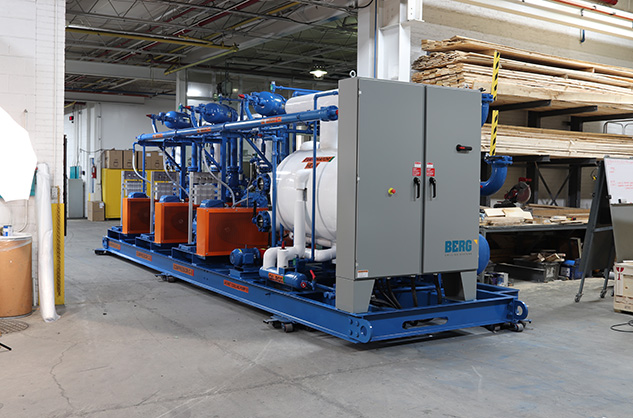 In 1992 the Occupational Safety and Health Administration (OSHA) and the Process Safety Management (PSM) issued specific safety regulations for facilities where more than 10,000 pounds of ammonia, and other highly hazardous chemicals, were in use. These regulations apply to food and beverage processing plants, ice rinks, and other storage and distribution facilities.
Organizations such as the American Society of Mechanical Engineers (ASME) have also developed and issued codes, guidelines and recommended practices for determining acceptable testing methods and allowances for corrosion and deuteriation of materials.
Here are six questions chilling system operators should ask themselves for ammonia leak prevention.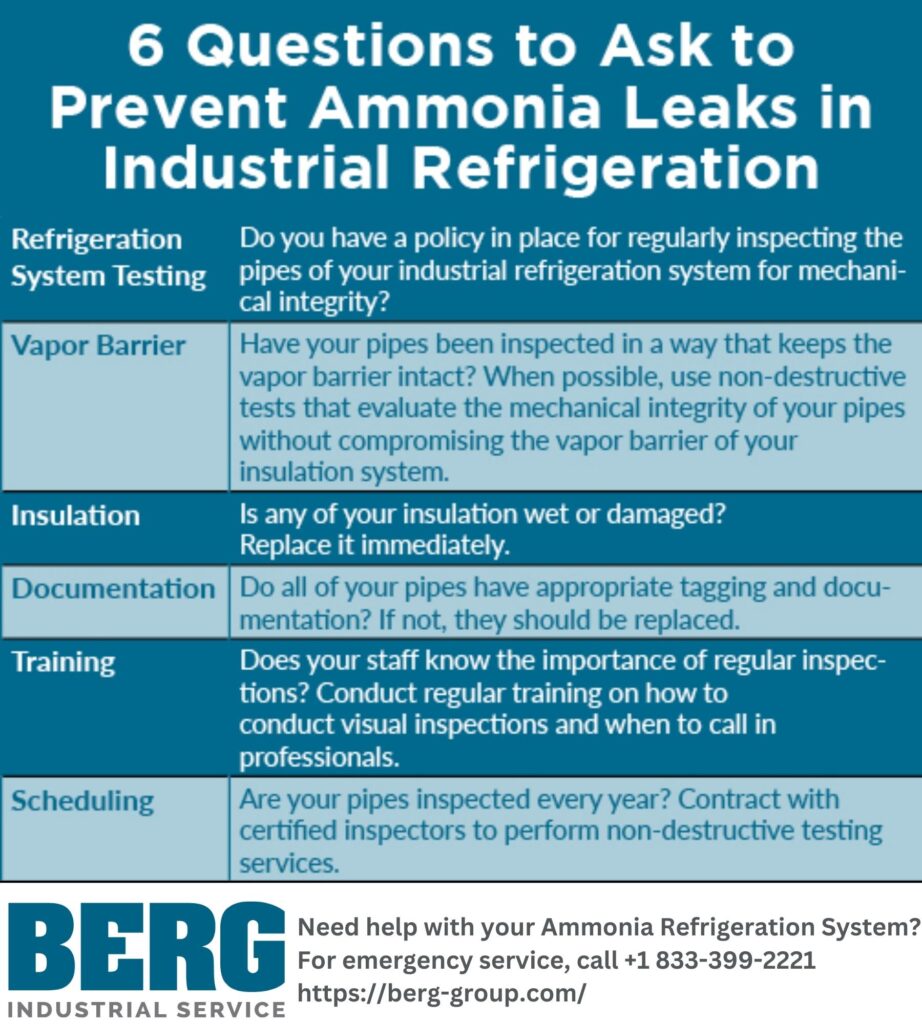 Ammonia Refrigeration System Testing
Do you have a policy in place for regularly inspecting the pipes of your industrial refrigeration system for mechanical integrity?
The pipes of ammonia cold storage system are constantly exposed to freeze and thaw cycles whether cold but above freezing, hot gas piping in cold rooms, defrost return lines, or vessel fill lines.
Uninsulated piping and associated components can be visually inspected for damage or deuteriation. If problem areas are identified as being affected by even the slightest corrosion they should be immediately cleaned and treated. Where piping or material loss has occurred, thickness of the remaining metal should be measured.
Where insulated piping is used, the external condition of the piping insulation and its supports should be visually inspected. If any insulation is determined to be unsound or damaged, it should be removed and the thickness of the exposed piping measured.
Both insulated and uninsulated piping is exposed to condensation and temperature changes that result in the pipes expanding and contracting. Because of this, they are more susceptible to fatigue and leakage.
Vapour Barriers and Chilling System Maintenance
Have your pipes been inspected in a way that ensures that the vapor barrier has been kept intact?
In order to properly evaluate the condition of your pipes, without piercing this vapor barrier, it is important to use non-destructive tests when possible. Such tests include:
Ultrasonic Thickness Testing: uses ultrasound waves to detect discontinuities on the surface or subsurface and to determine thickness.
Radiographic Testing: Penetrates the material and records discontinuities onto film using X-rays and gamma rays.
Magnetic Particle Testing: Uses electrical current and magnetic particles to identify discontinuity.
Liquid Penetrant Testing: Indicates discontinuity visibly by using liquid penetration into the surface.
These non-destructive tests are the best methods for keeping your vapour barrier intact without compromising the function of your insulation system. They are conducted by professionally trained industrial refrigeration maintenance experts and inspectors.
Refrigeration System Insulation
Is any of your insulation wet or damaged?
Replace it immediately.
Because industrial refrigeration systems are usually so large and complex, insulation performs a vital role.  Typically found on piping between the evaporator and the compressor (as well as accompanying vessels and auxiliary equipment) it serves to minimize heat gains and reduce the load on the compressor (Learn more about the role insulation plays in the vapour-compression cycle to learn more.)
Whether fiber glass or mineral wool, the insulation plays a large role in limiting heat gains in the system and ensuring that the compressor load does not become excessive. However, due to its location on the chilling system, it is easily susceptible to wear and moisture build up and the normal wear and tear. Of course, any damage to the insulation could translate into a compromise of the mechanical integrity of the piping.
Visual inspections of all insulation should be conducted regularly. If any appears even slightly damp or damaged, it should be replaced immediately.
Chilling System Inspection Documentation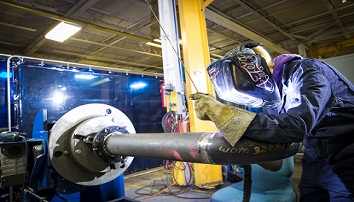 Do all of your pipes have appropriate tagging and documentation?
When non-destructive testing is performed to measure the thickness of the pipe and vessel walls and to predict life usefulness, it is typically performed by a third-party certified firm. These industrial refrigeration professionals have the official training and equipment needed to accurately test for the above requirements. One way chilling system owners can rest assured that their equipment is not at risk of ammonia leaks is to ensure that the system has been thoroughly and properly inspected by these professionals. To do this, all that is needed it to check the documentation tags. Once an inspection has been completed by a professional the following history is provided in the form of a tag:
Date of test
Name of person doing the test
Serial number of equipment
Description of test
Results of test.
Piping without proper tagging and documentation should be replaced.
Refrigeration System Training
Does your staff know the importance of regular inspections?
Preventing ammonia leaks through refrigeration system maintenance and inspections is of vital importance. All staff should be regularly informed of the importance of pipe inspections and the possible. If they need reminding, posting this list of ammonia leaks in Canadian ice rinks and their ensuing repercussions could be a good incentive.
Chilling system owners should provide maintenance personnel with regular training on how to conduct visual inspections. And they should be equipped with the information needed to know when it is important to notify an inspection professional.
Annually Scheduled Non-Destructive Testing
Are your pipes professionally inspected every year?
Although the above regulating bodies do not provide a specific process requirement for testing the mechanical integrity of your system, it does state that visual inspections of equipment and non-destructive testing be done annually. Although trained maintenance personnel may be able to perform the visual inspections, non-destructive testing is not done in-house.
Contract with certified inspectors to perform non-destructive testing services.
Contacting an Ammonia Refrigeration System Inspector
To ensure the mechanical integrity of your refrigeration system and to safely guard against the accidental release of ammonia refrigerant, contact Berg Industrial Service. Our experienced and professional trained personnel will properly identify potential risks and determine the appropriate level of inspection our refrigeration system needs.