Berg's ice rink refrigeration expertise always ensures the quality of your ice is always at its best by using the latest and leading technology, collaboration with our clients and high regard for customer safety. Our excellent track record includes providing a wide range of industries and applications the cooling solutions they need with a focus durability, reliability and cost-saving operations.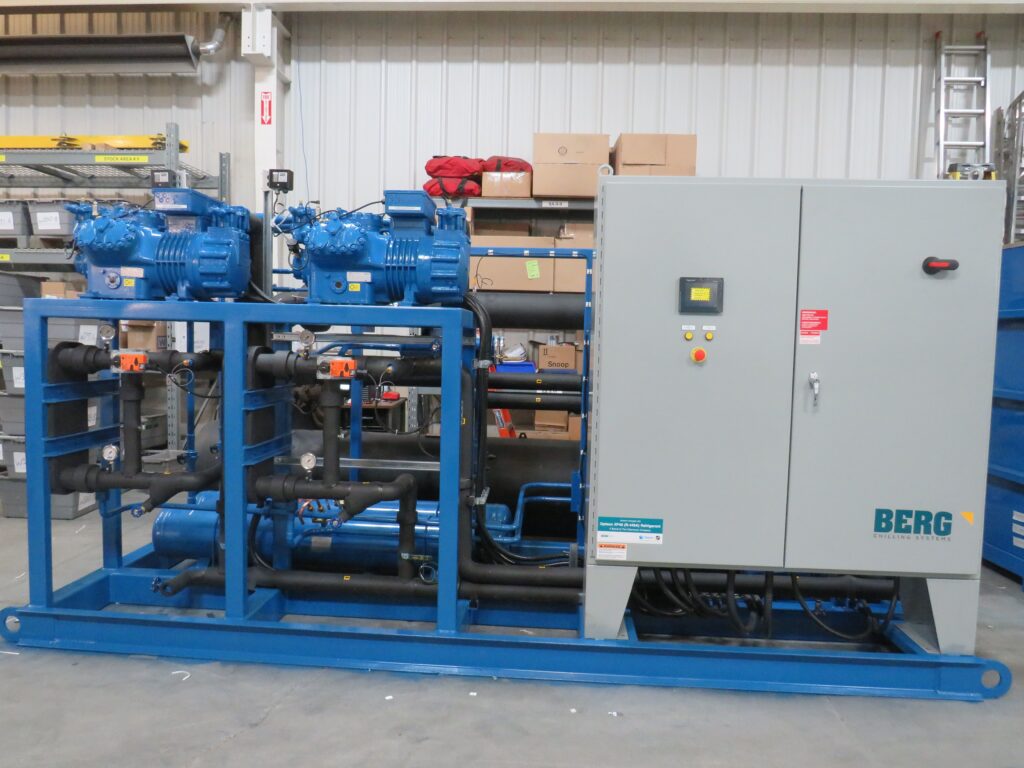 In 2021, Berg had the opportunity to help the Drayton Curling Club in Drayton, North Dakota achieve its operational goals. The arena's curling rink was due for refurbishing and was due for an upgrade of its curling ice rink chiller. With the client's priorities in mind, Berg's refrigeration experts supplied a custom-designed synthetic ice rink chiller that matched the client's needs and requirements. 
The curling rink refrigeration system includes a 42TR remote air-cooled chiller that uses R-449A (Opteon XP40) refrigerant. The system also includes a heat reclaim heat exchanger and pump, plastic glycol expansion vessel, VFD on primary pump, remote communications package, and touchscreen HMI. Berg's refrigeration experts also performed the decommissioning and removal of the club's previous curling rink chiller. In addition, Berg's refrigeration experts ensured the rink chiller operations were smooth and operating by performing factory testing, mechanical installation, and start-up of its new curling rink cooling system.
To find out more about the project, click here:
About Berg Chilling Systems
Berg custom designs, manufactures, installs, and services cost-effective chilling solutions for both synthetic and ammonia curling rink chillers and other recreational ice rinks. Berg's refrigeration experts know chilling down to the core. Putting the customer's challenges at the heart of every design, Berg sales engineers apply unmatched energy management experience to create built up or skid mounted systems using both ammonia and synthetic refrigerants.
Berg is active in the recreational ice sector as well as the general industrial sector across Canada, the United States, and elsewhere in the world. We have the resources and abilities to build very sophisticated industrial process equipment skids, packages, and solutions, and to meet stringent design specifications.
Wherever unique cooling needs exist, in multiple industries and in varying environments around the globe, clients trust Berg expertise. Contact us today to find out more.