Having a reliable, energy-efficient ice rink chiller is crucial to the success of any recreational facility. Whether you are in need of an ammonia or synthetic ice rink chiller for your hockey rink, outdoor skating rink, or curling rink, Berg can help you design and build a system specifically tailor-fit to your facility's operational and functional needs.
For over 45 years, Berg Chilling Systems has helped design and build thousands of chilling solutions worldwide, in various industries, including recreational ice. With Berg as your recreational ice system partner, you can be assured that you have an ice rink refrigeration system that is energy-efficient, cost-effective, and durable.
Berg recreational ice chiller systems come equipped with high system efficiency features and high-efficiency motors, have 100% heat recovery capability, include low refrigerant charge, brine or glycol pumping stations, an integrated ice rink and central rink controllers, built-up system redundancy, and are factory performance and functionally tested prior to shipment to ensure reduced on-site assembly and minimal disruption to your operation.
Holden Complex ice rink refrigeration system
In 2019, Berg Chilling Systems installed a synthetic indoor ice rink chiller skid package for Holden Complex in Alberta, Canada. The client was looking for an efficient solution to replace and upgrade its old 20-year-old system. Berg recommended providing a complete, factory assembled and tested solution that can be quickly and easily connected on-site with minimal interruption to regular operation and reduced disruption of the mechanical room when compared with a built-up system.
The remote air-cooled chiller is charged with R449A (Opteon XP40) refrigerant and has a cooling capacity of 60TR. In addition, this 60 ton ice rink chiller is a dual circuit and includes two compact screw compressors, an air-cooled condenser and a tube evaporator. Berg's ice rink refrigeration experts also performed the start-up of the new ice rink refrigeration system.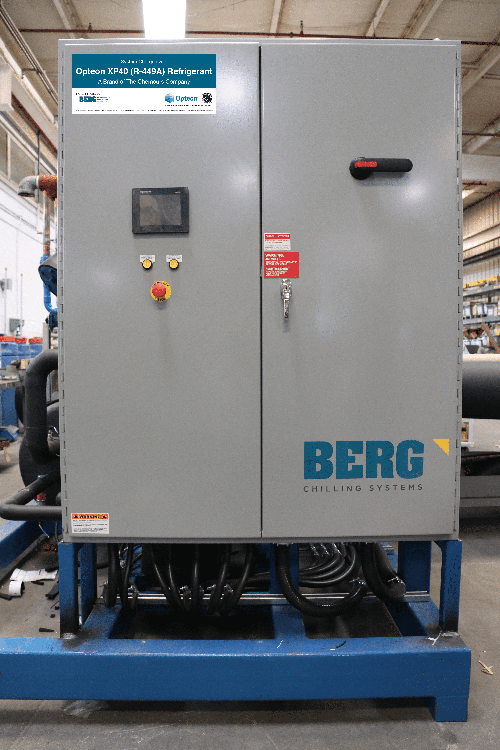 Canlan Ice Sports ice rink refrigeration system
In 2017, Berg Chilling Systems established a built-up cooling system for Canlan Ice Sports in Ontario, Canada. Canlan Ice Sports is the largest private recreational ice operator in North America. With 57 ice sheets in operation year-round, it was spending too much money on the electrical energy needed to keep rinks cool at the company's six-rink York location in Toronto. Management realized their 20-year-old refrigeration system needed an energy efficiency upgrade and they tackled the challenge in cooperation with Berg. Together they produced a refrigeration system that reduced peak demand by 45% and saved more than $300,000 annually.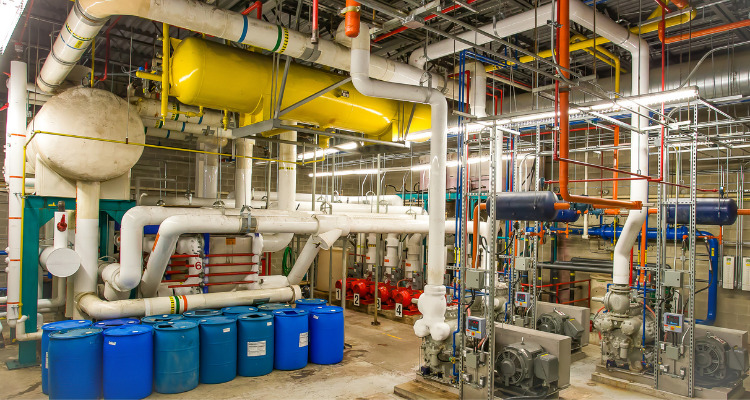 About Berg Chilling Systems
Berg custom designs, manufactures, installs, and services cost-effective cooling solutions for recreational ice rinks. Berg's refrigeration experts know chilling down to the core. Putting the customer's challenges at the heart of every design, Berg sales engineers apply unmatched energy management experience to create built-up or skid-mounted systems using both ammonia and synthetic refrigerants, including indoor, outdoor, and portable ice rink chillers.
Berg is active in the recreational ice sector in the provinces of Ontario, Manitoba, Alberta, Saskatchewan, and Nova Scotia across Canada. We have the resources and abilities to build very sophisticated industrial process equipment skids, packages, and solutions, and to meet stringent design specifications. Contact us today to find out more.