The Key to Resolving the Heat Load vs Refrigeration Load Balancing Act of Ice Rink Chillers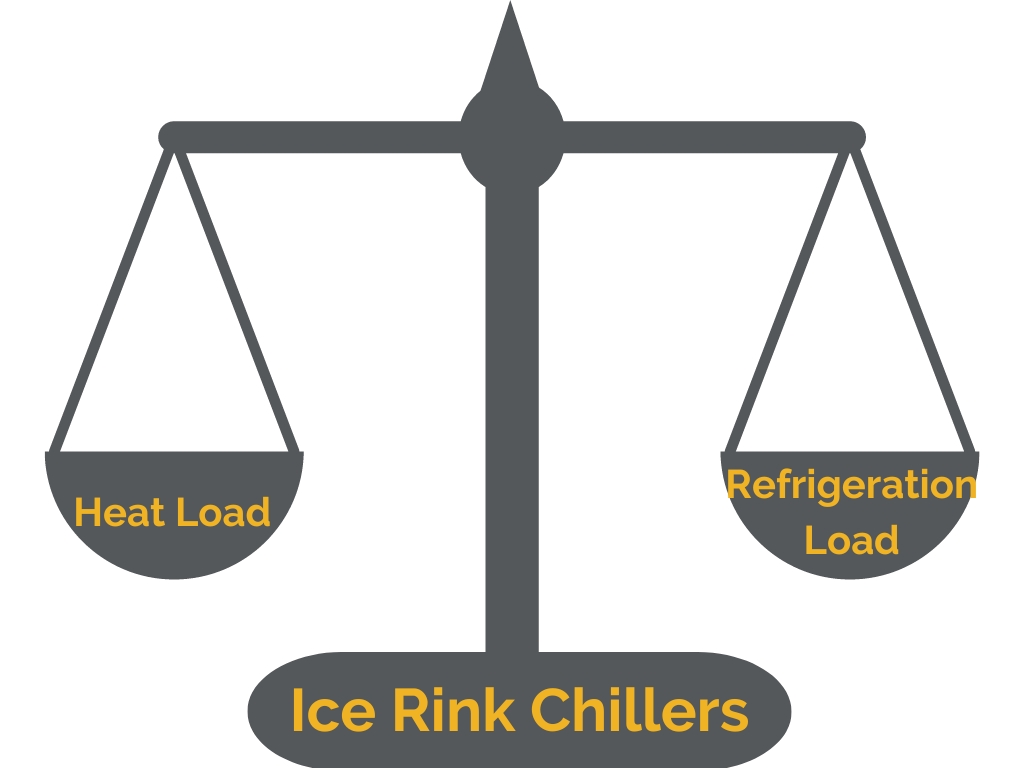 Balancing heat and cold: that is one of the biggest challenges of ice rink chillers. Arenas obviously create a cold atmosphere. Providing an indoor air temperature which is comfortable for spectators while also maintaining the cold temperatures needed to keep the surface skateable can be taxing on an ice rink refrigeration system.
Identifying the Imbalance Between Heat Load and Refrigeration Load in Ice Rink Chillers
Every public ice rink has a responsibility to provide a reasonably comfortable environment for the occupants. While this temperature generally hovers around the 65 F mark, the type and magnitude of heating can have drastic impact on ice rink overall energy costs. There are two main costs with heating the air in an ice rink.
The cost associated with providing reasonable heat to spectator seating. Although ice rink visitors typically come dressed for cooler temperatures, their sedimentary nature does require additional heat to be made comfortable. (Oftentimes, this is a smaller amount than expected.) Click here to calculate the refrigeration load on your ice rink.
The extra ice refrigeration costs incurred as a result of having to remove the convective heat load. This is how you define the warmer air that passes over the surface of the ice. Regardless of whether the air is moving or still, the warmer the temperature, the greater the heat load (and energy requirements) on the refrigeration system.
There is a clear tradeoff between the costs of heating an ice rink and the benefits of having rinks users and occupants. An ideal heating system for any ice rink is one that provides reasonable warmth to the patrons at a minimum cost to the chilling system.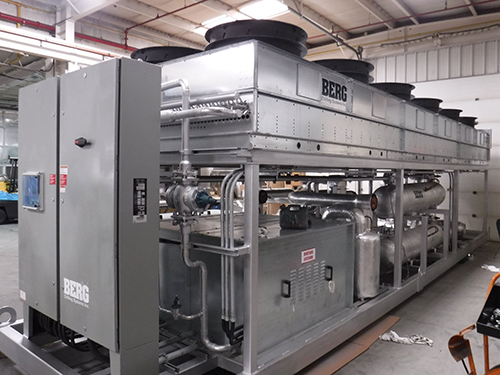 Resolve the Ice Rink Chiller Imbalance by Using Localized Radiant Heaters
The key to resolving this heat load-refrigeration load imbalance lies with one simple, affordable solution: the radiant heater. Industrial refrigeration specialists at Berg recommend using radiant heaters rather than the system-wide heating source to provide warmth to visitors to your arena when arena capacity is kept to a minimum. By installing side shields to keep the infrared from hitting the ice or placing the heaters at a reasonable distance from the ice three things take place:
Radiant heaters provide warmth to spectators without warming the rink air volume,
Radiant heaters help reduce the convective heat load by as much as 25% on the refrigeration system,
Radiant heaters provide substantial rink refrigeration energy savings and lower operational costs.
With strategically placed radiant heaters and an efficient space heating operating policy, your ice rink chiller's heat load versus refrigeration load can be resolved. Furthermore, you will be able to provide spectators with direct heat when and where needed while keeping energy costs to a minimum.
The professionals at Berg Industrial Service can advise you on the proper purchase, placement, and operations of radiant heaters at your ice rink. Contact us for more information.